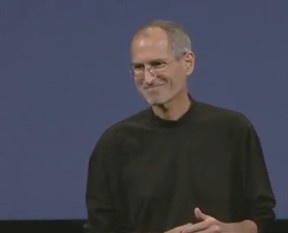 Although Facebook CEO Mark Zuckerberg won the Time's editor "2010 Person of the Year" and WikiLeaks founder Julian Assange won the online popular vote, the
Financial Times
had someone different in mind, naming
Apple
CEO Steve Jobs their 'person of the year.'
Reads their article:
"As technology colonises every area of our lives – music, films and art – so nerds are the emperors. So it has come to pass. Steve Jobs, the polo-necked Apple chief, described this week by US president Barack Obama as the 'epitome of the American dream,' is the Financial Times' Person of the Year."
Obama was celebrating the entrepreneurial spirit of the American people, saying:
"We celebrate somebody like a Steve Jobs, who has created two or three different revolutionary products. We expect that person to be rich, and that's a good thing. We want that incentive. That's part of the free market."
In a busy year, even by Apple's standards, the company has launched the iPad tablet, a revamped Apple TV, the iPhone 4, new
MacBook Air
models and fully updated iPods.
Apple has had record sales quarters for their iPhone, and outsold even the most liberal analyst expectations for the iPad.