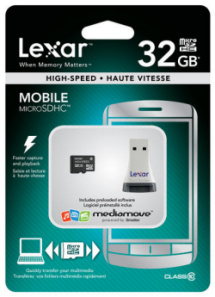 At the Consumer Electronics Show (CES) in Las Vegas, Micron Technology's Lexar Media is showing new Class 10 high-speed microSD cards intended for use with mobile phones.
The 32GB Class 10 microSDHC card guarantees a minimum sustained write speed of 10MB per second and a read speed up to 20MB per second. The card is part of a performance kit that includes a USB reader and mediamove for Lexar Media sideload software for easy and quick file management.

The card also includes pre-loaded software to allow users to manage their stored images and videos, sync content with their PC or Mac, and share them on the most popular social websites. "We've seen a steady rise in the sophistication of smart and mobile phones, and usage trends show a convergence between communication and entertainment," said Jim Chan, product marketing manager, Lexar Media.

"Today's users rely on their mobile devices, beyond talk and email, for capturing live moments and downloading their favorite content – whether it's photos, music, or HD video – and they want the flexibility to store and share them on demand. It is with this knowledge that we've developed this convenient, all-in-one solution to enable users to not only capture moments and download content, but also to move these to a computer or social media sites easily."

The card is available now from Amazon.com or Lexar.com with an MSRP of $149.99.