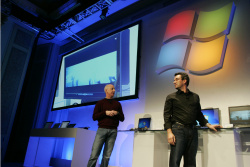 Microsoft has pledged support for System on a Chip (SoC) architectures, including ARM-based systems from partners NVIDIA Corp., Qualcomm Inc. and Texas Instruments Inc. in the next version of Windows at the Consumer Electronics Show.
Intel Corporation and AMD have continued development of low-power SoC designs that will fully support the Windows platform, including support for native x86 applications. SoC architectures consolidate the major components of a computing device onto a single package of silicon, making it possible to produce smaller, thinner devices while reducing the amount of power required for the device.

At CES, Microsoft demonstrated the next version of Windows running on SoC platforms developed by Intel (x86 architecture) and on ARM architecture platforms developed by NVIDIA, Texas Instruments and Qualcomm. Microsoft Office running natively on ARM was also shown as a demonstration of the potential of Windows platform capabilities on ARM architecture.

"With today's announcement, we're showing the flexibility and resiliency of Windows through the power of software and a commitment to world-class engineering. We continue to evolve Windows to deliver the functionality customers demand across the widest variety of hardware platforms and form factors," said Steven Sinofsky, president of the Windows and Windows Live Division at Microsoft.