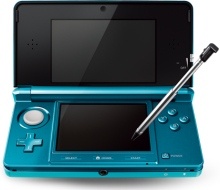 Nintendo
has posted the final hardware specs for the 3DS handheld this week, and one glaring issue appears to be the battery life.
In the past, the
Nintendo DS
line has had very good battery lives, with the original
DS
lasting 10 to 14 hours, the
DS Lite
lasting 15 to 19 hours, the
DSi
lasting 9 to 14, and the large-screened
DSi XL
lasting 13 to 17 hours.
For the upcoming 3DS, battery life when running a game in 3D, is only 3-5 hours, with some warning that the actual time may be closer to the lower end of that range unless Wi-Fi is turned off.
Battery life is a measly 5-8 hours when running regular DS games.
President Satoru Iwata
said back
in October:
As for the battery, it is inevitable that Nintendo 3DS will be a device which requires more frequent recharging than Nintendo DS. This is why we are going to include the cradle, which is a dedicated battery charger. Perhaps we may need to dispatch to our consumers a message, something like, 'Please place your Nintendo 3DS on the cradle as soon as you return home with it.'