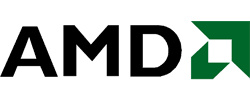 Less than a month after the Board of Directors removed the CEO,
AMD
is seeing more management turnover, as the Chief Operating Officer and Senior VP of Corporate Strategy plan to step down.
COO Bob Rivet and VP Marty Seyer will stay with AMD to help with the transition,
added the company
, before leaving for "other opportunities."
CEO Dirk Meyer left in January after the Board brought up concerns about the company's lack of a concrete strategy for the burgeoning smartphone market.
Last year, Meyer raised eyebrows when he said the company would not invest in microprocessors for smartphones/tablets until the market grew more, despite the fact that the iPad is already eating into netbook and notebook demand.
AMD remains focused on chips for PCs, servers and video cards.