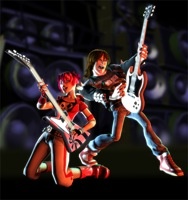 Activision has
announced
this morning that the once popular 'Guitar Hero' franchise is finished, with the company "disbanding Activision Publishing's
Guitar Hero
business unit."
The developer has also stopped all development on the upcoming untitled 2011 Guitar Hero game.
Activision cited a continued decline in interest, across the board, for music genre games.
Although the franchise is now dead, the company did add that the brand would be "re-assessed" if need be, in the future, leaving the chance of a revival if demand returns.
Although unconfirmed, there is also a rumor that DJ Hero will be dropped by Activision, as well, likely after the release of DJ Hero 3D for the
Nintendo
3DS.