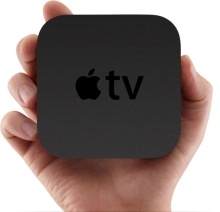 Multiple sources are reporting today that Apple's upcoming iOS
4.3
might bring gaming to the
Apple
TV, expanding the practically useless "Game Center" introduced with iOS 4.
In the 4.3 code, there are references to "ATVThunder" and "ATVGames," each of which point to scheduling of games, leaderboards sortable by date, the
streaming
of live/archived games, and a new storefront (likely similar to
iTunes
).
Because the Apple TV only has 8GB of internal memory, streaming seems the only way to play games via the set-top.
Furthermore, there are references to streaming like "Sedona" and "Flagstaff." Sedona is Apple's video rental mechanism, explains
TUAW
, who speculates the rentals will turn to streaming, for movies/TV/games.
Finally, the code references FEATURE_REMOTE_SCREENSAVER, which could speculatively lead to interactive screensavers.