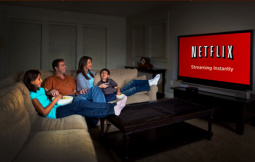 Netflix shares have exploded to a new all-time high today at $247, following news that
streaming
was headed to future Android devices.
Qualcomm announced earlier in the morning that devices running the updated Snapdragon platform with Android will be able to use Netflix's 'Watch Instantly' streaming service.
While that means current Android smartphone/tablet users may still not be able to use Netflix streaming, future devices will be able to right out of the box.
Says Liat Ben-Zur, senior director of software strategy and ecosystems for Qualcomm:
We're excited about this collaborative effort to help bring the Netflix application to Android devices running on the Snapdragon platform. Qualcomm is in a unique position to help bring the most optimized and advanced Android apps to market through working closely with the strong ecosystem of Snapdragon developers like Netflix.
Netflix has been notably missing from Android devices, especially since Netflix has a working streaming app on iOS and Windows Phone 7.
The
press release
explains that
"Snapdragon processors are designed to deliver dynamic performance and media protection features in a turnkey package, allowing the devices they power to more easily pass through the approval process required for Netflix certification. Additionally, Netflix video decoding is handled by highly efficient dedicated hardware, extending battery life and improving picture quality."