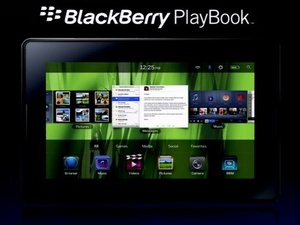 Research In Motion (RIM) has announced today that they will release LTE and HSPA+ models of the upcoming PlayBook tablet, joining the WiFi and WiMax 4G models that will go on sale in March.
Each of the models will have Bluetooth
tethering
, mobile hotspots and BlackBerry Bridge, says
PCW
, a piece of software that lets BlackBerry owners use BBM (Messenger) on the tablet.
It is unclear what carriers will support the tablet, but it's speculated that it will be available through Verizon, AT&T and T-Mobile.
Price has not been confirmed but has been "leaked" as $500 for a base model, in line with the first generation
Apple
iPad.
RIM's PlayBook will have a 7-inch LCD screen with 1024x600
resolution
, a dual-core 1GHz processor, a 5MP standard camera and a 3MP front-facing camera.
Finally, the company is expanding its BlackBerry World app store to Azerbaijan, Botswana Bulgaria, Croatia, Cyprus, Czech Republic, Denmark, Finland, French Guyana, Greece, Guadeloupe, Hungary, Iceland, Kenya, La Réunion, Latvia, Macedonia, Malta, Martinique, Nigeria, Norway, Romania, Russia, Slovakia, Slovenia, Sweden and Tanzania.