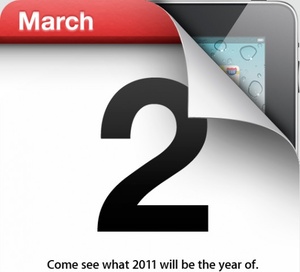 Apple
has begun sending out
invites
for an iPad 2 launch event on March 2nd, confirming recent rumors.
The event will be at the Yerba Buena Center for the Arts at 10:00 am, the same venue used for multiple launches in the past few years.

It is unclear what will be upgraded for the iPad 2, but most reports have the tablet adding a dual-core CPU, updated GPU, dual cameras and a slimmer form factor.

The invite teases "Come see what 2011 will be the year of," although arguably 2010 was the year of the iPad, with the tablet crushing all sales estimates on route to 15 million units sold. Apple is expected to sell 40 million iPad/iPad 2 units this year even as it faces increased competition from Android, WebOS and BlackBerry tablets, all of which will make their true debuts this year.

John Gruber of Daring Fireball subtly noted last month that Apple may be moving to a 6-month release schedule for their popular iPad tablet, meaning the iPad 3 could be ready by the end of the year, as well.