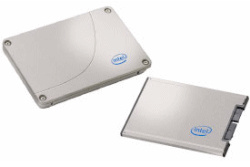 Intel has shown off the next in a line of new solid-state drives (SSDs) featuring fast SATA 6Gbps performance.
The new drives in the Intel Solid-State Drive 510 Series take full advantage of the transition to higher speed SATA bus interfaces on the recently introduced 2nd Generation Intel Core processor-based platforms. The SSD 510 models support transfer speeds up to 500MB/s, doubling the sequential read speeds, and triples the sequential write speeds of the 3Gbps line to 315MB/s.

The Intel SSD 510 with 6Gbps SATA interface outperforms 10,000 RPM HDDs by 50 percent for fast performance and high visual fidelity game play. The line is aimed at gamers, media creators and performance-intensive workstations.

"The Intel SSD 510 Series helps round out our SSD product line and was specifically designed for applications that require high sequential media transfers," said Pete Hazen, director of marketing for Intel's NAND Solutions Group.

"Whether it's a gamer wanting impeccable visual performance and faster game loading, or a performance-intensive workstation user, the new 6Gbps SATA SSD from Intel is not only significantly faster than the top 10,000 RPM gaming HDD, it's also faster than two RAIDed gaming HDDs."

The Intel SSD 510 series uses 34-nanometer NAND flash memory, while the upcoming third generation of Intel SSDs will use 25-nanometer technology. The new product is now available in 1,000 unit quantities priced at $584 per unit for 250GB capacity, and $284 per unit for 120GB capacity.