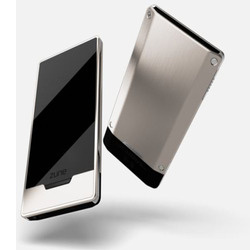 According to
Bloomberg
,
Microsoft
will no longer introduce new models of the Zune line of media players, citing low demand.
The company will now focus on integrating the Zune software into Windows Phone 7 devices.
WP7 device owners will be able to use Zune for subscription unlimited music and to rent/buy movies and individual tracks.
The original Zunes were released in 2006 but did not take the market share Bill Gates hoped they would. Despite the critical success of 2009's
Zune HD
, the
Apple
iPod (in all iterations) still controls a massive 77 percent of the media player market. The Zune was only a top-10 device.
Microsoft declined to comment on the report but did offer:
We have nothing to announce about another Zune device -- but most recently have introduced Zune HD to Canada via the Zune Originals store and remain committed to supporting our devices in North America. We are thrilled by the consumer excitement for Zune across many new platforms, including Windows Phone 7 and Xbox 360. Our long-term strategy focuses on the strength of the entire Zune ecosystem across Microsoft platforms.