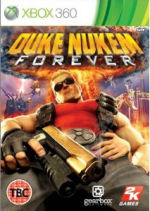 Highly-anticipated game is set back yet again by developer.
Duke Nukem Forever
was given new release dates earlier this week. The title
will launch
on June 10 internationally and in North America on June 14th. Back in January,
2K Games
and
Gearbox Software
turned heads by announcing a May 3 release date for the game.
The delay is certainly not that long, but considering the title was first announced all the way back in 1997 and has become something of a running joke (
Duke Nukem Whenever
,
Duke Nukem Fornever
,
Duke Nukem IfEver
etc.) in the business over the past decade, yet another delay is just not what gamers want to hear anymore.
2K Games finally lost patience with original studio
3D Realms
in 2009, suing it and linking up with Gearbox Software instead to develop the title. After Gearbox' major success with
Borderlands
, the developer used the cash to buy up all Duke Nukem Forever assets and Intellectual Property last year.
The title will be available as both a standard edition, and a
"Balls of Steel Collectors Edition"
, available for PC and on both the Xbox 360 and PS3 console platforms when it launches.