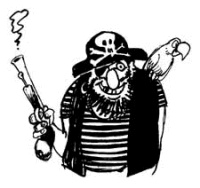 A federal judge has given a boost to rights' holders looking to sue thousands of file sharers in the United States for copyright infringement.
Efforts to sue thousands of people who downloaded and shared movies illegally on the web were challenged by several groups, such as the
Electronic Frontier Foundation (EFF)
,
American Civil Liberties Union (ACLU)
and
Public Citizen
. The group has objected to new litigation campaigns that lump thousands of alleged pirated together.
They believe that the mass jointing of multiple defendants violated federal rules of procedure, and that the plaintiffs had inadequately established jurisdiction. Also, they contend that the First Amendment to the US Constitution protected the defendant's right to anonymity.
U.S. District Court Judge
Beryl Howell
dismissed all three arguments, contending that the mass-joining of defendants benefits the plaintiffs and the defendants alike.
"Given the administrative burden of simply obtaining sufficient identifying information to properly name and serve alleged infringers, it is highly unlikely that the plaintiffs could protect their copyrights in a cost-effective manner. Indeed, Time Warner urges the Court to sever the defendants for this very reason. Time Warner asserts that, if joinder were disallowed, its burden of complying with subpoenas would be diminished because the plaintiffs would not be able to proceed against all of the putative defendants individually At this procedural juncture, the plaintiffs have met the requirements of permissive joinder under Rule 20(a)(2). The putative defendants are not prejudiced but likely benefited by joinder, and severance would debilitate the plaintiffs' efforts to protect their copyrighted materials and seek redress from the putative defendants who have allegedly engaged in infringing activity."
She ruled also that it was premature to even bring up questions of jurisdiction before the defendants are even identified, and in these chances when an ISP hands over the details, an individual is dropped from the lawsuit if he/she does not reside in the jurisdiction. The plaintiff can file a new lawsuit in the defendants home state.
Interestingly, the judge did find that file sharing does involve
"aspects of expressive communication"
that would qualify under the First Amendment, but did not allow it to get in the way of a property owner's right to protect their works.
"The First Amendment interest implicated by their activity, however, is minimal given that file-sharers' ultimate aim 'is not to communicate a thought or convey an idea' but to obtain movies and music for free,"
she ruled
.