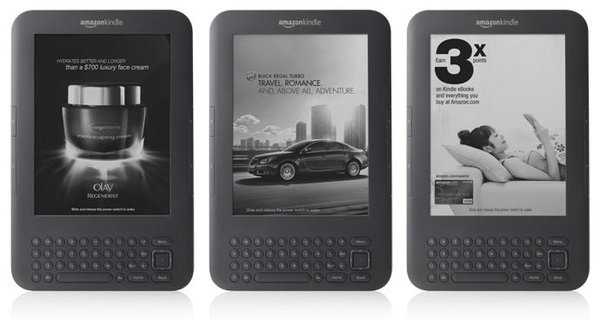 Amazon has announced today it will begin selling an ad-subsidized Kindle reader for $114, a full $25 discount off the regular price for the latest generation of Wi-Fi e-readers.
The new "Kindle with Special Offer" will, as promised, give consumers special offers and will also show ads as screensavers when you are not actively using the device.
A few of the "Special Offers" are actually very nice, including $10 off a $20 Amazon gift card and $1 for a full album via Amazon
MP3
.
Amazon says its first launch partners for ads are Chase, Visa, Olay and Buick.
Says
the company:
"Lower-price sponsored ad strategy will serve us well and make us an attractive option to the widest possible group of people."
Pre-orders start today and the e-reader hits on May 3rd.