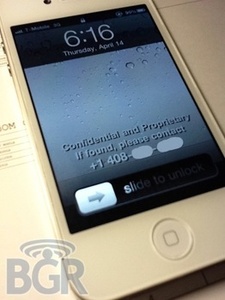 BGR has posted a picture today of a white iPhone 4 prototype being tested with T-Mobile's 3G bands.
The site speculates that it may be an iPhone 4S developer prototype.
Those "4S" were given out to certain developers to test out new software on an iPhone with a dual-core A5 processor, which is expected to be added to the upcoming iPhone 5.
AT&T has proposed buying T-Mobile for $39 billion, but that deal is expected to take over one year to close, if it even does get through anti-trust regulators.
If the deal does go through,
Apple
would have little use for a T-Mobile 3G, but there may be many willing buyers if the phone is released soon.