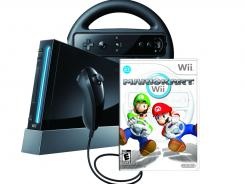 Nintendo
has announced it will begin officially selling the
Wii
console for $150 bundled, starting May 15th.
The bundle includes a Wii remote,
Mario Kart
, and a steering wheel.
Nintendo will continue to sell the $169.99 bundle (which includes
Wii Sports Resort
and
Wii Sports
) until inventory runs out. From there, that price point will be discontinued.
Says Nintendo of America President Reggie Fils-Aime:
There is quite a bit more volume to be sold on the Wii home console. And the way we are going to get there is by offering the system at this low price and by including a key software title like Mario Kart."
Mario Kart has sold over 10 million copies, making it one of the most popular games on the console.
Overall the Wii has sold 86 million Wii consoles, to date.
The Wii 2 (codename Stream) is expected to be released in early 2012 with specs that put the PS3 and Xbox 360 to shame.