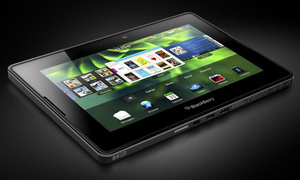 One of RIM's most-anticipated features for their PlayBook tablet is its ability to tap into the 250,000 app-strong Android Market.
This week, the company has demoed the feature and says it will be pushed to users in the summer.

The apps appear to run very well on the tablet, with the company showing off a few music apps, and IMDB.

Unfortunately, RIM does not show off any apps that would tax the graphics portion of the hardware.

Because there are no buttons on the PlayBook, the home/back/search/menu buttons have been mapped as gestures.