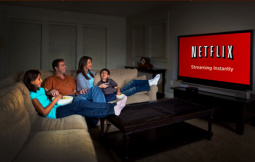 Following in the footsteps of other ISPs like Comcast, AT&T began its broadband
bandwidth
caps earlier this month, giving subscribers "generous" caps of 150-250GB, depending on your subscription package.
The company claimed that only 2 percent of all users ever go over 250GB, so the cap will hardly affect anyone.
New data from Netflix (
via DSL
) makes it abundantly clear that those caps may be "generous" now but they will not be in the very near future.
Netflix now accounts for 30% of peak bandwidth usage in the U.S., with the average user
streaming
40GB of movies and TV shows per month.
That number explodes to 80GB per month for users that stream through their Xbox 360 console. Overall, one quarter of all Netflix traffic comes through the 360, second only to the PlayStation 3, which accounts for almost 31 percent.
How long until these console users, who likely also game online occasionally, download DLC and possibly download movies from
iTunes
HD
reach their caps?