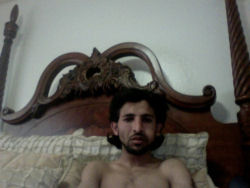 Police return MacBook to man who kept tabs on thief's activities.
Joshua Kaufman
, of Oakland, California, had his MacBook stolen from his apartment after a break in on March 21. When he realized the MacBook was gone, he took advantage of an anti-theft application called
Hidden
which let him see images from the webcam, as well as content on the screen.
He originally took the evidence to the police, but due to resource restrictions, they were unable to help him even though he had photos of somebody using his MacBook.
Kaufman then took his campaign online to a blog,
where he posted several images
he had gotten back from his MacBook. Oakland police got in contact with him soon after and got to the task of attempting to track down the individual in the photos, which didn't take long with the mountain of evidence Kaufman already had.
"Update: (May 31, 8:37 PM PST) ARRESTED! An Oakland police officer just called me to let me know that they arrested the guy in my photos! BOOYA! The police used my evidence (email which pointed to a cab service) that he was a driver and tricked him into picking them up. Nice work OPD!"
he posted to his blog.
Muthanna Aldebashi
is being held on a charge of suspicion of possessing stolen property. Kaufman got his MacBook back from police on Wednesday.