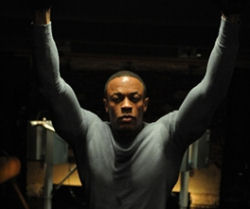 Hackers are given deterrent sentences.
Two men who allegedly targeted music artists including Dr Dre and Lady Gaga have been handed down prison sentences by a court in Germany. The pair targeted e-mail accounts to mine for personal information and other content which was then leaked online.

Details that the hackers are alleged to have stolen from music stars also include private banking information and personal communications. The investigation into the activity began when music industry investigators were alerted to a larger number than usual of pre-release (even unfinished) music tracks leaking onto the Internet, and at earlier dates than expected.

Anti-piracy teams narrowed down their search to Germany and alerted local authorities to the activity. The men were found guilty of copyright theft and computer intrusion. One of them was also found guilty of an extortion charge. They had allegedly profited from selling stolen pre-release tracks for up to $1,000 each.



To get the data they wanted, the hackers used phishing e-mails and also sent trojans disguised as music tracks. They then accessed the e-mail (and other) accounts of music artists and stole a large amount of personal and commercial content.

Deniz A (known as DJ Stolen), was given a prison sentence of 18 months, and the other man, Christian M (known as CCE) received a suspended 18 month sentence for the crimes.

Last year, rapper and hip-hop producer Dr Dre (real name Andre Young), revealed to VIBE that somebody had actually hacked into his e-mail accounts.

He told VIBE: "I'm not mad at the fans. I'm mad at the person that leaked the sh*t. I have no idea how it got out. It's not even worth looking to see who did it. It happens. The most painful part about it is that I'm passionate about what I do so people should hear it in the right form...Somebody actually hacked into our emails, so that made our red flags go up. We're in a new age and that's a sign, 'Wake up motherf*cker.' You have to be more careful with your sh*t. That's all there is to it. I know what's up now."

The track leak he was referring to at the time was a collaboration with Jay Z called "Under Pressure". The rough cut was clearly unfinished with the only notable part of it being Jay Z's verse. After the leak, Dr Dre was frustrated at how unfinished the track was before it was leaked to the public, angered that he "didn't even get a chance to finish it." His response to a question on the incident can be seen in the video below.