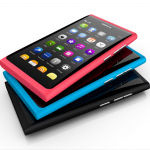 Nokia unveiled its first (and last) MeeGo handset today, the Nokia N9.
The first promotional videos from Nokia displaying the new handset were pretty uninformative, and left a lot of readers of Nokia sources asking for more details about the device. Nokia Marketing Manager Jussi Mäkinen filled the gap for a UI tour, and the most complete version of the handset specs were posted online the company.
Nokia N9 MeeGo User Interface Demonstration by Jussi Mäkinen
Nokia N9 Specifications
Networks: Pentaband WCDMA 850, 900, 1900, 1700, 2100, Quad band GSM/EDGE 850, 900, 1800, 1900
Speed: HSDPA Cat10: 14.4Mbps, HSUPA: Cat6 5.76Mbps
Display: 3.9" WVGA (854×480) AMOLED display with curved Gorilla glass, no air gap, anti-glare polarizer
OS: MeeGo 1.2 Harmattan
Memory: 1024MB RAM, 16GB/64GB storage
Camera: 8Mpix auto-focus Carl Zeiss, wide-angle lens, 2x LED flash, Video capturing MPEG-4 SP 720p @ 30fps, 2nd camera for video calls
Size / Weight: 116.45 mm x 61.2 mm x 7.6–12.1 mm (L x W x T) / 76 cm3/ 135 g
Connectivity: BT 2.1, GPS, A-GPS, WLAN 802.11abgn, NFC, 3.5mm AV connector, micro USB connector, USB charging
Processor: ARM Cortex-A8 OMAP3630 1 Ghz, PowerVR SGX530
Audio: MP3 player, Audio jack: 3.5mm, Supported codecs: mp3, AAC, AAC+, eAAC+, WMA, FLAC.
Battery: 1450 mAh
 
Talk time: (GSM/WCDMA) up to 11 h / up to 7 hours
Standby time: Up to 450 hours (WCDMA), up to 380 hours (GSM)
Video playback (720p): up to 4.5 hours
Music playback: up to 50 hours
Analyst Response
Truth be told, Nokia could never have expected to win over analysts by unveiling a MeeGo device so close to the expected arrival of Nokia Windows Phone 7 handsets.
Stephen Elop
, Nokia CEO, even re-iterated on Tuesday that Windows Phone 7 is Nokia's primary smartphone strategy, with an eye to launching the first device later this year and going to volume shipment in early 2012.
Analysts see this strategy as condemning the N9 to being a niche product, and every handset Nokia unveils before WP7 handsets (the company will release smartphones using its own Symbian OS in the meantime) simply as a stopgap.
"The N9 comes too close to the expected launch of Nokia's Windows Phone device to have any impact on its current smartphone woes,"
said
Ben Wood
or
CSS Insight
, a London-based mobile consultancy firm.
"The strength of rival ecosystems leaves little room for MeeGo powered devices. It's difficult to see the N9 being anything more than a niche device ... the N9 will be a tough sell."
The reaction is expected, and it won't do any favors for Nokia's marketing position or Stephen Elop, who hasn't had the greatest of started in his new job. In a leaked memo, Elop likened the company's market position to a man standing on a burning oil rig. Maddening as the comments may be to Nokia employees and shareholders, it is fact that Nokia is taking a beating in the market for smartphones, and is losing ground in the low end of the market to
Micromax
and China's
ZTE
.