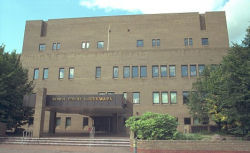 Ryan Cleary gets to go home.
The 19 year old was arrested last week on suspicion of being involved with attacks on several websites, including the UK Serious Organized Crime Agency. Prosecutors had been opposed to bail for Cleary in a hearing at Southwark Crown Court in London.
He now gets to go home but under certain conditions. He is electronically tagged, has to observe a curfew and cannot leave his home without his mother Rita. His PlayStation 3 (PS3) console, iPhone and computers were
reportedly confiscated by police
, and he is prohibited from using any device with Internet capabilities.
Cleary spent the past week undergoing interrogation from UK police and FBI agents, who had cooperated in the investigation that led to his arrest.
"Ryan Cleary is very relieved to be granted bail and to be home to his mum, his cats and his books. He has cooperated with police and will continue to do so. Ryan has last week been diagnosed with Aspergers... He will now be provided with the professional support he needs. His obvious intelligence can now be channelled into a worthwhile pursuit,"
Cleary's lawyer said outside the court.
"One thing not so positive from this case is that the British police are investigating and appear to be accepting jurisdiction [unlike the Gary McKinnock case]. Ryan will not be making further statement for the time being."