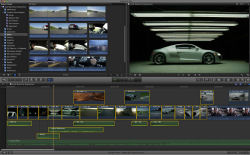 FAQ is mixture of good and bad news for users of the software.
Apple
unveiled the new
Final Cut Pro X
software last week, the successor to
Final Cut Pro 7
. The new version was built from the ground up and fundamentally changed some details about the program. The response from some professional users was very negative, as they felt the software is inferior to Final Cut Pro 7.
One of the biggest concerns for users is that Final Cut Pro X cannot import projects from past versions of Final Cut Pro. Apple addressed this issue in the FAQ, and the news is not good.
Can I import projects from Final Cut Pro 7 into Final Cut Pro X?
"Final Cut Pro X includes an all-new project architecture structured around a trackless timeline and connected clips. In addition, Final Cut Pro X features new and redesigned audio effects, video effects, and color grading tools. Because of these changes, there is no way to 'translate' or bring in old projects without changing or losing data."
It goes on to say that you can still use Final Cut Pro 7 after installing X, and that Final Cut Pro 7 will work perfectly with
Mac OS X Lion
. It then also states that you can still import the media files used in past projects, which should have been completely obvious. The problem is not the media files, it is the editing information stored in saved project files that has pro users upset.
Another problem is the lack of support for Output to tape, and the limited import abilities in that area too.
Can I edit my tape-based workflow with Final Cut Pro X?
"Final Cut Pro X is designed for modern file-based workflows and does not include all the tape capture and output features that were built into Final Cut Pro 7. Final Cut Pro X does support FireWire import for DV, DVCPRO, DVCPRO 50, DVCPRO HD, and HDV."
Another notable omission was support for XML exports, but the FAQ did confirm that APIs for XML export options will be made available.
"When the APIs for XML export are available, third-party developers will be able to create tools to support OMF, AAF, EDL, and other exchange formats,"
the FAQ states.
Final Cut Pro has been used in the editing process or many major films over the past decade. Some recent examples include
"True Grit"
,
"The Social Network"
and
"Where the Wild Things Are"
. It was also used to edit
"The Curious Case of Benjamin Button"
,
"No Country for Old Men"
and
"Cold Mountain"
, all of which were nominated for the Academy Award for Best Editing.
Read the Apple Final Cut Pro X FAQ here.
http://www.apple.com/finalcutpro/faq/