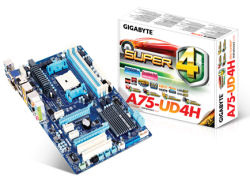 New boards for AMD Llano A8 and A6 Accelerated Processing Units (APU).
Gigabyte Technology Co. Ltd. launched its latest series of motherboards supporting the new AMD A75 series chipsets, and the latest AMD A-Series APUs. Gigabyte A75 based motherboards offer DIY PC builders and integrators a new world of 3D and multimedia performance with the most scalable, and best value upgrade path imaginable.

The new boards features an AMD A75 "Hudson" chipset supporting the latest 32 nanometer AMD A-Series APUs. These processors are the first ever to combine a DX11-capable, high performance graphics processor with a choice of a dual or quad core CPU in one silicon die.

Using Gigabytes's Easy Tune 6 utility, users can overclock the AMD A-Series APU to gain further performance enhancements over stock settings. The AMD A75 series platform showcases AMD Dual Graphics technology, allowing users to further boost 3D graphics performance by adding an additional discrete AMD Radeon™ HD 6000 series graphics card to the system.



The boards feature Hybrid EFI technology (for booting from disks over 3TB), 3 Power Boost USB ports (speeds up charging times for connected devices) and High-end 108dB HD Audio.


Gigabyte A75 motherboard overclocks AMD Llano APU, plays Crysis 2



"At Gigabyte, we are delighted to bring to market this new and exciting motherboard range, delivering our renowned durability and exceptional feature support to AMD's ground breaking APU technology," commented Henry Kao, VP of Worldwide Service and Marketing at Gigabyte.

"As well as bringing AMD A-Series technology to DIY users who demand excellent gaming and multimedia performance on a budget, these motherboards also offer a compelling upgrade path that includes Dual Graphics configurations."