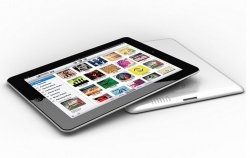 There are now over 100,000 native iPad apps available in the
Apple
App Store, an impressive milestone for the tablet whose first generation model launched just 14 months ago.
By comparison, it took 16 months for the App Store to reach 100,000 apps after the launch of the iPhone.
Additionally, the figure is at least 100 times higher than Android's tablet-optimized Honeycomb which is said to have near 1000 native apps.
Apple announced earlier this year that 10 billion apps had been downloaded since July 2008, and the store now has over 350,000 apps.
The Android Market has 250,000 apps while RIM has 17,000. The quickly expanding Windows Marketplace has over 20,000 since its launch last November.
(
Pic via MSNBC
)