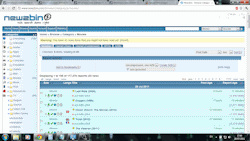 Hollywood claims victory that will see Usenet-indexing site blocked.
BT
has been ordered by a High Court judge to block access to
Newzbin2
, a website that indexes contents of Usenet binary newsgroups, and makes it possible to download NZB files that combine with newsreader software to download binary files.
A previous version of Newzbin has been ordered to clean up its indexing, but it was sold off to a new group outside UK jurisdiction. The member-only website which charges a very low fee for access does not host any illegal material itself, but can used in a way similar to a torrent site to gain access to such material.
"In my judgment it follows that BT has actual knowledge of other persons using its service to infringe copyright: it knows that the users and operators of Newzbin 2 infringe copyright on a large scale, and in particular infringe the copyrights of the studios in large numbers of their films and television programmes,"
Justice Arnold wrote
in his ruling.
"It knows that the users of Newzbin 2 include BT subscribers, and it knows those users use its service to receive infringing copies of copyright works made available to them by Newzbin 2."
BT and the
Motion Picture Association
will be back in court in October to work out how the blocking will work. Newzbin2 has received some reports from BT users that the domain has been blocked, but not the IP address yet.
BT will not be forced to use its web blocking technology,
CleanFeed
, to kill access to Newzbin2, and also you would assume, any other website the MPA points a finger at. CleanFeed's current main purpose is to block access to child sex abuse images and other illegal content of that nature.
"Website blocking is pointless and dangerous. These judgements won't work to stop infringement or boost creative industries,"
the
Open Rights Group (ORG)
said in a statement.
"And there are serious risks of legitimate content being blocked and service slowdown. If the goal is boosting creators' ability to make money from their work then we need to abandon these technologically naive measures, focus on genuine market reforms, and satisfy unmet consumer demand."