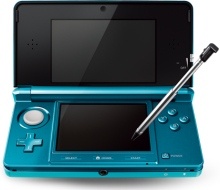 Nintendo
has announced today that it will be dropping the price of the
3DS
handheld, starting August 12th.
The company is taking a huge chunk off the MSRP, dropping the price from $250 to $170.
Adds NoA President Reggie Fils-Aime:
For anyone who was on the fence about buying a Nintendo 3DS, this is a huge motivation to buy now. We are giving shoppers every incentive to pick up a Nintendo 3DS, from an amazing new price to a rapid-fire succession of great games.
The move will
"create momentum for the Nintendo 3DS and accelerate its market penetration toward the year end sales season, when the lineup for the applicable software shall be enriched,"
adds the company
.
Nintendo says it has sold 830,000 3DS in the U.S. since launch, and all current owners will be offered 20 free games from the newly launched Nintendo eShop.
Additionally, users who take advantage of the eShop deal are also enrolled in the "3DS Ambassador program," which allows for 10 free
NES
Virutal Console downloads like Super Mario Bros. and Donkey Kong Jr. Finally, "Ambassadors" will also get 10 free
Game Boy Advance
Virtual Console games like Mario vs. Donkey Kong and Mario Kart: Super Circuit.