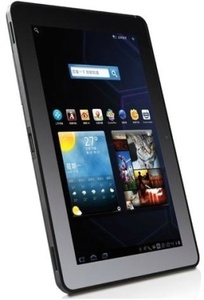 Dell
has launched its Streak 10 Pro tablet in China this week.
The Honeycomb tablet is the company's first 10-inch model and is priced competitively at 2,999 yuan ($465 USD).
Streak 10 Pros feature a 1280x800
resolution
, dual-cameras, edge-to-edge glass, Tegra dual-core processor, an
SD
slot, and is just 0.47-inches thick while weighing 1.5 lbs.
Dell also sells a dock that adds multiple USB ports including a "Host mode" which allows for PC emualtion.
John Thode, a Dell vice president and manager of Dell's mobility business, told
Cnet
why the company chose China for launch:
This...avoids a bunch of the inhibitors and barriers to success that we've seen in the U.S. market. Things like confusion over what exactly Android is bringing to the table.