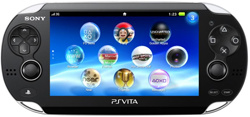 Developers can incorporate PS Vita controls and features into PS3 titles.
Sony
has confirmed that developers will be able to incorporate features of the
PlayStation Vita
handheld console into PS3 games. Devs can make use of the handheld's touch screen, gyroscopic features and other elements. The PS Vita handheld features a 5-inch OLED screen.
The functionality was confirmed as possible by Sony Europe R&D manager
Phil Rogers
at the Develop conference last month. At the time he suggested that Sony would allow cross-talk functions between the two systems most of the time.
"PS3 can send data down to Vita and Vita can display it,"
Rogers said
.
"You could use the unique features [of Vita]--gyroscope, touch front and back--as a control device for a PS3 game. You can run software on both devices and use the network to sync the game states. And that's pretty good because you then have the processing power of PS3 doing that work, Vita [doing] fancy graphics...however you want to do it. You're not sacrificing the PS3's CPU to be able to have a rich experience on Vita."