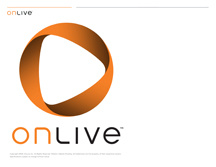 "Cloud console" service to launch in the region on September 22.
Available in the United States for more than a year,
Onlive
allows gamers to play titles on a variety of hardware and gadgets. That's because the computation is done on remote servers, while only the video and sound is streamed to the user, while the user's commands are sent to the servers.
The promise of such a service is the ability to play high quality and graphically intense video games on systems with very low spec hardware. Onlive is not perfect yet however, but it is a good start and receives mostly favourable reviews.
"There are some sacrifices,"
said
Scott Lowe
, executive editor at games website IGN.
"You lose a little bit of the clarity and the graphics don't stack up as well as something like a PC or a console, but you do get most of the major gist of the experience."
Onlive has put a lot of effort into making all the underlying hardware as low latency as possible, to minimise any delays in feedback experienced at home.
A concern that the service needs to address in the UK is its need for bandwidth and potential high data usage. It's lowest connection speed (to deliver compressed video) is 1Mbit/s, which can amount to more than 450MB of data downloaded easily per hour.
In some areas of the UK, download limits might affect how much an Onlive customer could play, so the company is
considering approaching ISPs to do deals
which will ensure these users are not left out in the cold.