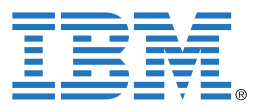 IBM
has unveiled an experimental new type of microprocessor, called a cognitive computing chip, which is designed to emulate the operation of the human brain.
The primary purpose of the technology, which is funded by the Defense Advanced Research Projects Administration (DARPA), is to develop computers capable of doing things computers don't currently do well, but human brains do. For example, a person is much better at facial recognition than a computer.

In order to create their two protypes, IBM began by discarding the standard model for computer architecture, which separates memory and processing into separate components, tying all the memory to a single processor or group of processors using a shared data pathway called a bus.

By contrast, their "neurosynaptic cores," spread both processing and memory throughout the processor similar to the way neurons and synapses are arranged in the brain.

"This is a major initiative to move beyond the von Neumann paradigm that has been ruling computer architecture for more than half a century," said Dharmendra Modha, project leader for IBM Research.



Watch the videos below for more details.