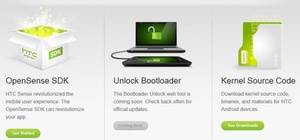 In May,
HTC
CEO Peter Chou announced that his company would be moving back to open bootloaders on their devices, following considerable customer
outcry
.
The first phones to receive the unlocked boots are the
EVO 3D
and
Sensation
4G.
Said the CEO at the time:
There has been overwhelmingly [sic] customer feedback that people want access to open bootloaders on HTC phones. I want you to know that we've listened. Today, I'm confirming we will no longer be locking the bootloaders on our devices. Thanks for your passion, support and patience.
Two weeks ago, HTC started HTCDev.com, allowing those who like to tinker with their devices an opportunity to do so more easily. The site gives access to the OpenSense SDK and access to the kernel source repository, as well as the unlocking tools.
As of this weekend, HTC has made the first unlocking tools available in the U.S., a week after the U.K:
We're pleased to share that the EVO 3D for Sprint unlock process is now available. It requires a software update, so please update your phone via the "About Phone" menu before starting the process. Please check HTCDev.com for updates, as well as a detailed explanation of the unlock process.