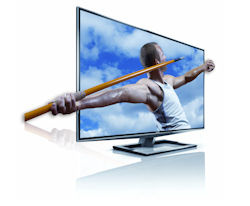 Quad Full HD display delivers striking 3D images.
Toshiba
used the
IFA
trade fair in Berlin to demo its new 55-inch ZL2, featuring its very latest in imaging technology. The
ZL2
removes the need for 3D glasses for viewers, who can experience the effect from 9 different positions in front of the TV.
Other features of the ZL2 include face tracking,
Resolution+
,
Auto Calibration
, 2D to 3D conversion, and Smart TV features including
Toshiba Places
. The ZL2 is the world's first TV targeted at consumers to include a Quad Full HD display, offering up to 3840 x 2160 pixel resolution. This enables the ZL2 to offer a 3D viewing experience that can be enjoyed by multiple viewers and can display 2D content in four times (Quad) Full HD resolution.
The glasses-free 3D technology is based on the stereoscopic principle of simultaneously delivering a picture for the left eye, and another one with a small offset (parallax), for the right eye to achieve the 3D effect. To deliver a glasses-free 3D image and experience, a range of lenticular lenslets guide the dedicated images to each viewer.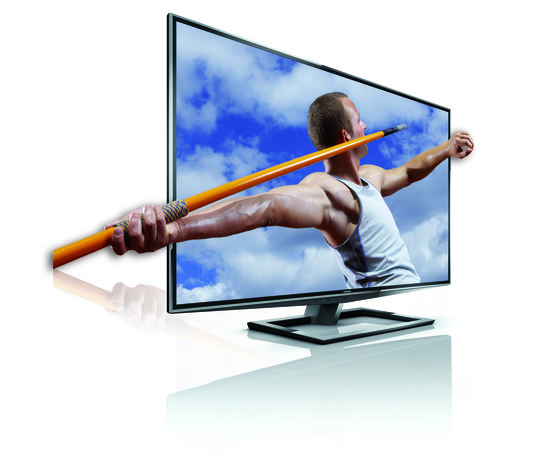 Toshiba ZL2 Information
139.7cm (55-inch) Glasses-Free 3D TV
Quad Full HD (3840 x 2160) resolution display
Face tracking technology via integrated camera
2D to 3D conversion with depth control
Built in Wi-Fi, DLNA® and Windows 7 compatibility
Freeview HD ready tuner
Resolution+ and 3D Resolution+
Toshiba Places
YouTube, BBC iPlayer
Personal TV
Remote control operation via iPhone
AutoView ambient light sensor
Built-in subwoofer
USB HDD Video Recording
Auto Calibration
4x HDMI, 2x USB
REGZA-LINK (HDMI CEC)