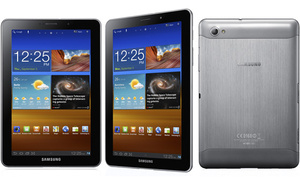 Patent row with Apple continues as Samsung removes new tablet from line-up at Europe's biggest consumer electronics trade fair.
Samsung
opted to remove the
Galaxy Tab 7.7
from its IFA line-up in Berlin after a Dusseldorf court ordered it to stop selling the product. Despite the fact that the tablet is
not even on sale yet
, Samsung decided to honor the court order by removing it.
It had been unveiled at the show along with the new 5.3-inch
Galaxy Note
, a kind-of cross between smartphones and tablets in terms of its size.
Apple has accused Samsung, the biggest Android vendor, of
"slavishly"
cloning its iPad and iPhone devices in its tablet and smartphones. A ban was placed on the sales of the Galaxy Tab 10.1 in Germany in August, and the court will give its final ruling on September 9.
Apple and Samsung are also fighting legal battles in the United States, Australia and South Korea.