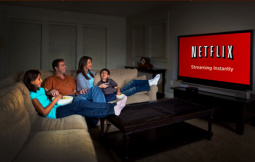 One analyst believes the move is coming.
Wedbush Securities,
in a report
to clients today, says Amazon could be ready to purchase Netflix and become the market leader in the
streaming
business.
Says the client note:
Upon reflection, it appears to us that the driver for the separation of Netflix into two businesses—Netflix.com (for streaming) and Qwikster.com (for DVD rentals—was to position the streaming business for sale to Amazon.com (Nasdaq: AMZN)...In our view, Amazon has always wanted to be in the streaming business, and has been constrained from buying Netflix due to tax considerations.

"We arrive at our $155 price target through a sum-of-the-parts valuation analysis that values the Netflix streaming business at $130/share, and the Qwikster physical DVD rental business at $25/share. For Netflix streaming, we have assigned a 24x P/E multiple to our 2012 diluted EPS estimate of $3.63, plus an additional 50% premium should Amazon acquire it. For Qwikster, we have assigned a 14x P/E multiple to our 2012 diluted EPS estimate of $1.75. This multiple is roughly in-line with its primary DVD rental competitor, Coinstar.
Over the past three months, Netflix certainly has gotten cheaper, mixing an economic downturn with decisions that have not been seen favorably by investors or subscribers. First, the company lost its Starz content. Then, the company doubled the price for DVD and streaming bundles and just last week split its two divisions, with the DVD-by-mail service taking on the name Qwikster.
If Amazon were to purchase the company, it would instantly get its 21,000 pieces of TV and movie content. In Europe, the company owns Lovefilm, a Netflix equivalent.