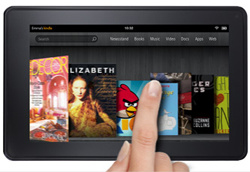 According to an IHS iSuppli estimate, the upcoming Amazon Kindle Fire tablet will cost $209.63 to make, meaning Amazon is losing money on every unit sold.
The giant e-tailer is selling the tablet for $199 starting November 21st.
Components that go into the Fire cost $191.65, says IHS, while miscellaneous manufacturing expenses bring the total to the stated estimate. It is unclear if the miscellaneous expenses include shipping and R&D.
If so, Amazon is losing just $10 per device sold, which can easily be made up if user's use the integrated Amazon app store or buy music, movies.
Dubbed the "Gillette model," Amazon loses money upfront, but gets the product into as many hands as possible. It is called the Gillette model because Procter & Gamble sells their Gillette razors at a loss upfront, then makes a killing on selling the blades later at huge markup.
Says the research firm (via
Reuters
):
When further costs outside of materials and manufacturing are added in -- and the $199 price of the tablet is factored along with the expected sales of digital content per device -- Amazon is likely to generate a marginal profit of $10 on each Kindle Fire sold.