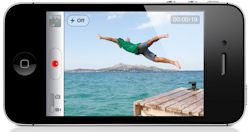 During their Q3 earnings call today,
Sprint
CEO Dan Hesse told analysts they expect the lifetime value of an iPhone customer to be 50 percent higher than for other smartphone users.
Although the iPhone was not available through
Sprint
until just after the beginning of Q4, meaning its impact isn't reflected in the Q3 numbers, Hesse and CFO Joe Euteneuer made a point of emphasizing the importance of the iPhone to their operations over the life of their 4 year deal with
Apple
.
Over that period,
Sprint
is obligated to spend a minimum of around $15.5 billion according to Eutenuer. This is nearly $5 billion less than was
previously rumored
.
Hesse predicted:
We expect the customer lifetime value of an iPhone customer to be at least 50 percent, yes at least 50 percent, greater than a typical smartphone user, driven primarily by more efficient use of our network and lower churn.
Additionally, he said:
iPhone users are expected to use significantly less 3G than the typical user of a dual mode 3G/4G device. Even adjusting for more total new customers being added to the network, we believe we'll put less load on our 3G network than we would have if we did not carry the iPhone.
Eutenuer explained further, saying:
We expect iPhone customers to be among our most profitable, as the higher up front acquisition costs are expected to be offset by longer customer tenure and lower support costs, including data efficiency.
However, these estimates are based on the assumption the iPhone will add significantly more customers than
Sprint
would have otherwise had. Euteneuer also explained that the cost for adding an iPhone customer is nearly 40 percent higher than the cost for a other smartphones.
This is nearly a $200 difference, attributable primarily to the higher cost of the phone itself.
If the iPhone drops in popularity, or if the Internet usage of iPhone customers, which they estimate to be around 50 percent lower than the typical smartphone user, increases, their predictions go out the window.