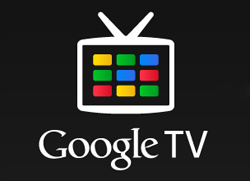 Google
may be looking for a new way to make the transition from traditional to Internet TV.
Google
TV, their Internet-based TV service was launched
last year
, but has yet to be a success by any
objective measure
. At the end of last month they
announced version 2.0
of the service, but with few people currently using the service, it remains to be seen if it can get traction in the market.
Considering a recent report about their plans to setup a cable TV service, maybe their purchase of
Motorola Mobility
is the key to that succes.
According to the Wall Street Journal,
Google
's Jeremy Stern
is negotiating
with media companies as part of a plan to offer cable TV service in Kansas City, Missouri and Kansas City, Kansas. The service would use the same transmission lines they are already planning for a high speed Internet offering in the area.
Coupled with the
Motorola Mobility acquisition
, it could clear the two biggest hurdles
Google
TV has faced since its inception; a lack of content provider cooperation and a lack of consumers with
Google
TV capable devices.
For years everyone from industry analysts to tech bloggers has speculated about the possibility of Internet-based TV services replacing traditional cable and satellite pay TV. Yet despite the availability of all the necessary technology, cord cutters remain the exception.
There are numerous reasons for this, but essentially they all come down to
fear and uncertainty
about the change.
The entrenched incumbents, from content producers to TV networks, even to the pay TV services which dominate the consumer landscape, all have one thing in common. They
fear change
.
Consumers, on the other hand, are largely uneducated about the options outside of traditional providers. By and large they simply don't have the necessary knowledge to make the switch.
Before such a change can happen there needs to be a middle man with the ability to make the necessary content deals, provide the infrastructure and client technology, and prepare consumers at the same time.
At one time
Google
executives clearly believed they could do all that with
Google
TV. Instead they've faced fear and apprehension from the TV industry and confusion from consumers.
Maybe what
Google
needs in order to move forward is to first take a step back. What if, instead of simply jumping straight to
Google
TV as an Internet-based service, they started by developing the relationship with both content providers and consumers through cable TV.
Instead of replacing the traditional TV service completely, they could integrate it with their YouTube VOD service, with
clients built in
to
Motorola
cable receivers which also connect to their customers' broadband Internet.
Rumors have circulated about
Google
's plans to compete with Netflix via a subscription based unlimited YouTube offering. What better way to do that than through the existing hardware in a consumer's living room?
At that point, all the crucial groundwork would be laid. Consumers would have the necessary hardware and know-how to use it while
Google
would have a viewer base to sell content providers, and just as importantly, an established relationship with those companies.
Is any of this in
Google
's plans? Who knows if they have even planned that far ahead. But it's worth considering that what
Google
TV needs is less revolution and more evolution.