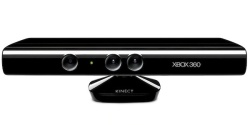 New Kinect hardware for general purpose use with Windows.
A post on the
Kinect for Windows
blog, made on Tuesday, said that the team has optimized certain hardware components and made firmware adjustments which improve PC-centric scenarios. The team is also working on the Software Development Kit (SDK) and runtime.
Simple changes to the hardware include a shortened USB cable to ensure reliability across systems, and a small dongle to improve coexistance with other USB peripherals. Updated firmware enables the depth camera to see objects as close as 50 centimeters in front of the device without losing accuracy or precision, with graceful degradation down to 40 centimeters.
"Near Mode"
will enable a whole new class of
"close up"
applications, beyond the living room scenarios for Kinect for Xbox 360.
Developers and companies are currently participating in the Kinect for Windows pilot program, and Microsoft is taking suggestions for functionality from the
Kinect SDK forums
.