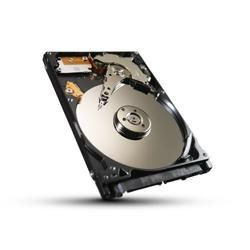 Hybrid solid-state drive aimed to laptop PCs.
Seagate announces that it is now shipping the second-generation Momentus XT solid state hybrid drive. It will enable users of laptop PCs using traditional HDDs to speed up their device by getting some benefits of solid-state storage, while keeping capacity high.

The new Momentus XT drive is being loaded into new laptops by original equipment manufacturers (OEM) now. The 750GB drive is powered by Seagate's Adaptive Memory and FAST Factor technologies. Adaptive Memory technology works by identifying data usage patterns, and then moving the most frequently retrieved information to solid state memory for faster access.

FAST Factor technology blends the strengths of SSDs and hard disk drives for faster access to applications, quicker bootup and higher overall system speed.

"Laptop users want faster access to all of their content, from gaming, music and video to spreadsheets and documents, creating strong demand for the highest performance," said Scott Horn, vice president of Worldwide Marketing at Seagate.



"Seagate is excited to answer this need with a second-generation Momentus® XT drive that delivers solid state drive (SSD) speed, greater storage capacity and easy installation at an affordable price."

The Momentus XT drive is nearly 70 percent faster than the prior Momentus drive version and up to three times faster than a traditional hard disk drive while providing 750GB of storage capacity. It is now shipping worldwide with an MSRP of $245.