Over the last several years, a wide variety of software has entered the market designed for creating discs in a multitude of multimedia formats. The problem is most of those tools don't offer any improvement over the open source software you can get for free.
For someone like me who is willing to invest a lot of time finding the best tools and putting together a collection of specialized software for various video, audio, and burning tools, the best results can usually be had using free and open source tools. But most people aren't like me. For the average person it's simply not worth the trouble to invest the time necessary.
If you are one of those people, Ashampoo Burning Studio may be worth a look. To be honest, when I was asked to review Ashampoo Burning Studio 11, I wasn't expecting to be impressed in the least. For just $49.99, it promises to perform many of the same operations as software costing twice as much or more.
What I didn't know then was that the reason for that price. That reason is some of the same open source tools I use all the time. Where bigger software companies either develop their own encoders and decoders, or more commonly buy off the shelf third party components, Ashampoo uses software like FFmpeg and LAME. Those are free products, aside from any patent licensing.
So if it uses all these free components, you might be wondering what, exactly, you get for $50. What you get is a simple, lightweight program to use them. While Ashampoo Burning Studio doesn't give you all the options and settings found in similar software, such as Nero or TMPGEnc, what it does offer may surprise you.
Lightweight Software & Unified Interface
The first thing I noticed about this software was how quickly it installed. In fact the entire process, from starting the install to opening the program at the end, took just under two minutes. Just for fun, I also tested it on a ten year old Windows XP machine I have lying around. It took about twice as long - still remarkably fast for this type of software. Arguably, this is less a measure of how fast Ashampoo Burning Studio is than how bloated other software has gotten.
Although there are a range of different operations, many of which aren't really related to each other, everything starts from a single interface. That includes a variety of general optical disc and disc image operations, as well as specialized audio and video options, cover design, and even some basic file backup.
Click on image to view full size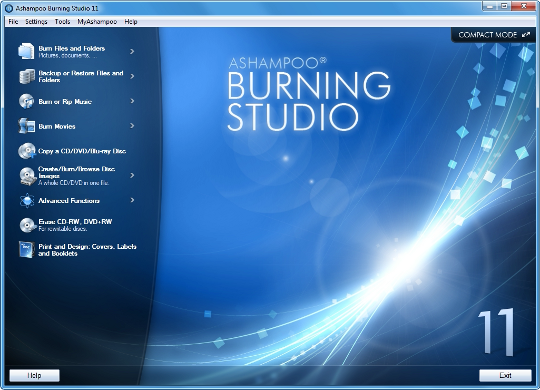 Nearly every operation you can perform with Ashampoo Burning Studio 11 uses a similar wizard interface. In pretty much every case you start with a file selection window. After that will usually be some questions and options specific to the particular type of job, such as selecting the format (MP3 or WMA) for encoding audio or the TV system (PAL or NTSC) for DVD-Video. At the end will be an option to select a CD/DVD/Blu-ray burner to complete the job.
Even though I'm really not in the target market for this software, I really came to admire the way it is put together. Not because it does everything. Frankly, it doesn't. In fact, what impressed me was that it doesn't try to do everything, which makes it more friendly for getting some of the simpler things done. It can be nice to have a Swiss Army Knife, but sometimes the corkscrew, scissors, and multitude of screwdrivers just get in the way.
Basic Burning Features
As you would probably expect from a program called Burning Studio, the primary focus is burning discs. As with other similar programs, it supports copying (non-DRM protected) discs and compiling discs of your own. One thing that should be particularly nice for the less tech savvy person is the options are spelled out in regular English. Operations for putting various types of media files on a disc, but not formatted as DVD-Video, Blu-ray movie, audio CD, or the like are worded as "Just Copy Music Files" or "Just Copy Movie Files."
There is also an autostart option, which can be as simple as running a particular program or as complex as an entire series of interactive menus. Although I like the feature, it does seem a little out of place in the program. Overall I would say Ashampoo Burning Studio is oriented toward less technical people, which isn't necessarily who I picture making discs which autostart. In fact, the reason I might create such a disc is for exactly that type of person. For example, if I gave my 72 year old mother a disc of videos which includes a menu for installing a playback program.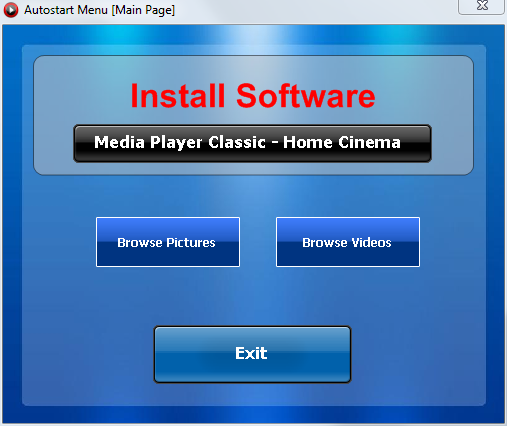 Another somewhat unique feature is editing an existing disc. If you have a CD, DVD, or Blu-ray disc you want to create a copy of with some files or folders added, removed, or replaced with different versions, there's a convenient wizard for it. It even works with bootable discs.
There are a number of other options which are more or less standard for burning programs. Ashampoo Burning Studio supports a number of disc formats. It can create or extract files from ISO, BIN/CUE, or Ashampoo's own ASHDISC image files. It does not, however, support reading from all image drives. In my tests it had no problem reading from a Daemon Tools virtual drive, but did not support Virtual CloneDrive.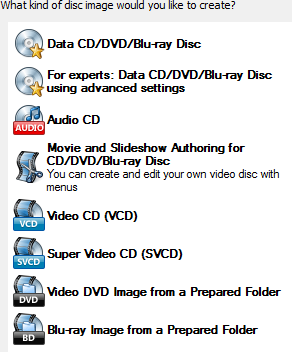 The image features are definitely one area where Ashampoo Burning Studio isn't very intuitive. More specifically, creating images isn't intuitive. Rather than simply choosing an image file in place of a burner at the end of the process, you must start by selecting Create a Disc Image From a Project.
Audio Features
Ashampoo Burning Studio 11 can rip CDDA (audio CDs), and includes FreeDB support for looking up disc information automatically. You can encode the ripped songs as uncompressed WAV files, or choose between MP3 (via LAME) or WMA to compress with. Even though some FLAC support is included in the program, that only extends to decoding them for creating your own CDDA, MP3, or WMA discs.
While I would rate the CDDA ripping features as better than the vast majority of CD ripping software, it is definitely missing some key features that would put it over the top. Most prominently, it lacks secure ripping. Programs like Exact Audio Copy, dBpoweramp, and CDex read each section of a CD multiple times while extracting audio. They then compare the extracted data to make sure it was the same each time. If not, more passes can be attempted until the program is satisfied that either the data is accurate or accurate data cannot be extracted. This is secure ripping.
As a second part of the process, the extracted audio may be compared against rips made by other people around the world using a special database called AccurateRip. In most cases, results from the AccurateRip database can tell you if there are errors in any of the songs you have extracted from a CD.
It would be nice to see Burning Studio support secure ripping and AccurateRip. Given the number of people who use lossless compression to avoid losing quality or wasting space for music stored on their computers, it also seems logical it should support FLAC encoding. Particularly since FLAC decoding for creating audio CDs is already supported. I realize limited options is also a feature because it makes the interface simpler, but I consider all those to be basic functionality at this point.
Making discs from the files on your computer is a different story. There are options for making audio (CDDA) CDs, as well as MP3 or WMA discs for DVD and Blu-ray players. For CDDA discs you can adjust the gaps between tracks, and for either type of disc you can normalize tracks. The MP3/WMA option should only be used if you want to re-encode all the tracks as there is no option to skip that step for tracks which are already in the correct format. For that, you would need to use the "Simply Copy" option to create your data disc.
Click on image to view full size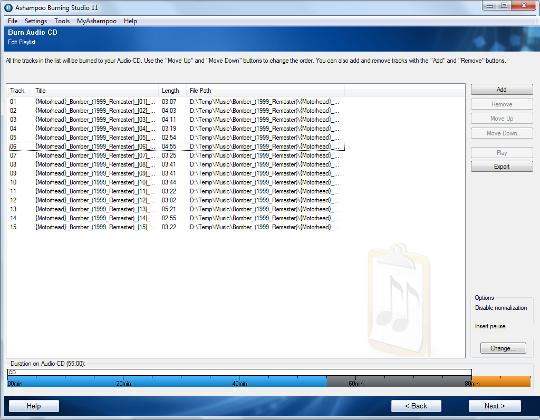 Video Features
If you have authored a DVD or Blu-ray disc using other software, there are options for burning them to disc without any alteration. There are also options for creating either type of disc, as well as VCD or SVCD discs. And of course there is also a "Just Copy" option for creating a simple data disc from your video files.
If you want to create your own DVD or Blu-ray discs using Ashampoo Burning Studio 11, it can convert the video and audio for you using FFmpeg and even add simple menus. Once encoding is finished, all the necessary folders will be created for each format.
Click on image to view full size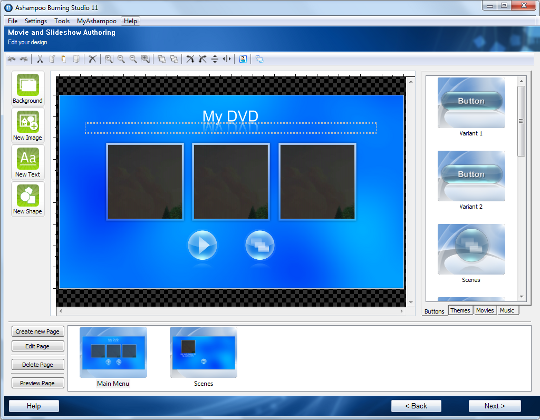 I have no complaint with Ashampoo's use of FFmpeg for encoding. In fact, given that FFmpeg's MPEG-4 AVC (H.264) code is taken directly from x264, I consider it an important feature. However, in their quest for simplicity, they have left out what I would characterize as necessary options.
The first is the option not to encode. Even if you start with 100% DVD or Blu-ray compliant video, it will be re-encoded prior to authoring. That's a mistake for a number of reasons. Re-encoding will always reduce the quality. The goal should always be to avoid it whenever possible. I understand if the program can't always figure out when encoding is necessary, but it should at least have a manual option to skip it.
The second missing option is interlacing. Ashampoo Burning Studio always deinterlaces video before encoding. On one hand, I was generally impressed with the deinterlacing results. Even telecined film was autodetected, and the film fields were reconstructed, rather than being blended together as I've seen some programs do. However, there's no reason video on DVD or Blu-ray can't be interlaced. And telecined material wasn't quite handled properly either, with duplicate frames being used instead of pulldown flags to simulate the telecine pattern. Once again, there should at least be some manual overrides for this.
Encoder Features
The program also an option to specify the encoding type. Ashampoo Burning Studio always encodes in 1 pass VBR (Variable Bitrate) mode, which is certainly the fastest way to go, but also gives you the lowest quality. For both MPEG-2 and H.264, two pass VBR encoding is far preferable. For MPEG-4, particularly if there is plenty of room to spare on the disc, Constant Quality (CRF) may even be the best approach. Once again, these could simply be added as checkboxes to override the default setting.
There are also some Blu-ray specific options missing. For starters, there is no option for creating Blu-ray discs sized to fit on a DVD. These discs, known as BD-5 or BD-9, depending on whether they are burned to single or dual layer DVD, are much more common for homemade discs than actual Blu-ray (BD-25 or BD-50) discs. Most people simply don't have Blu-ray burners, while almost everyone does have a DVD burner. While BD-5 and BD-9 aren't officially recognized, they are compatible with most players.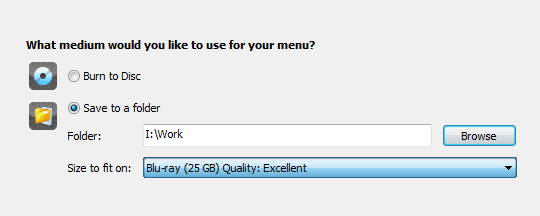 Finally, you can't create standard definition Blu-ray discs, which is within the official specs. In fact, any video which is DVD compliant is also 100% legal for Blu-ray. And, more importantly, if you wanted to compress DVD resolution video to put more on a disc, Blu-ray may be an attractive option thanks to the significant efficiency increase of H.264.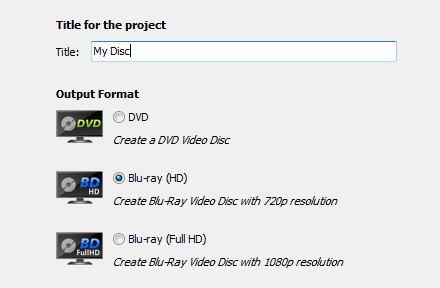 Despite these deficiencies, thanks to the high quality of the x264 code included in FFmpeg I got good to very good and occationally even great results authoring Blu-ray discs with Ashampoo Burning Studio 11. In most cases it's no problem for x264 to use significantly more compression than you see on commercially released discs. That means if you don't try to squeeze too much on a disc, even using Ashampoo's single pass encoding will produce nice looking video.
I'm less enthusiastic about its DVD encoding. It is still good, but even at relatively high bitrates I ended up with encoder artifacts. CCE Basic, a commercial program, is still the highest quality consumer encoder out there, and for free the winner would be Hank's Encoder (HCEnc). This would be much less important if SD Blu-ray encoding were added.
Click on image to view full size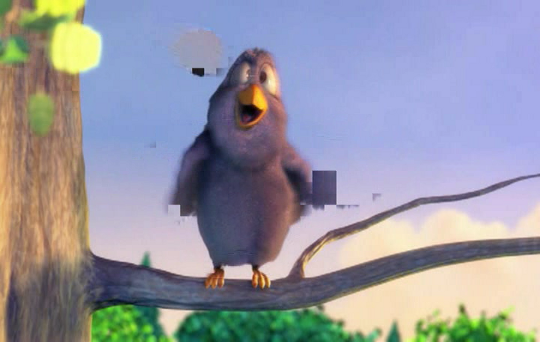 To Buy or Not To Buy
If what you want is simple software to handle your video and audio needs, there is a lot to like about Ashampoo Burning Studio 11. Clearly it is not for everyone. It's designed not for the compulsive settings tweaker, but the average person who wants something that just works with a minimum of effort. What you are paying for, more than anything else, is the interface. And if simple and straight forward is what you're looking for, it may appeal to you.
But don't take my word for it. There's a fully functional trial version you can download from Ashampoo's website. The trial is good for 10 days, which can be extended to 30 days if you don't mind registering for a trial serial. They also have frequent sales, so if $50 seems like too much, watch their website for deals and you can probably find it for significantly less.