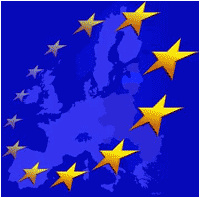 EU joins forces with Facebook, Google, Apple and more.
In total, 28 companies will develop an age-based rating system and vowed to strengthen privacy settings for users of web services. They also agreed to make it much easier to report inappropriate content on large web services.
"This new coalition should provide both children and parents with transparent and consistent protection tools to make the most of the online world,"
said
Neelie Kroes
, the European Commissioner for Digital Agenda.
Other measures agreed to include enhancing cooperation among law enforcement and hotline authorities, and also to improve parental controls. In June, a European Commission report found that fourteen of the leading social networking sites do not do enough to protect children using their services.
European Union research has also shown that many children become active online around the age of seven, and that
38 percent of 9-12 year olds have social network profiles
of their own. It also found that 26 percent of children access web services through games consoles (PSN, Xbox Live etc.) and over 30 percent now access the Internet using their phones.
"We welcome this initiative and we are hopeful of what it might achieve,"
said
Childnet International
Chief Executive
Will Gardner
.
"We are looking at a statement of purpose, this is the beginning."