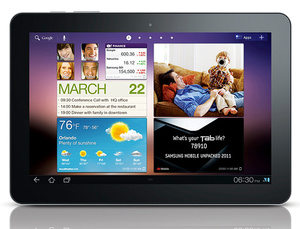 Judge dismisses Apple injunction demand.
Apple
was dealt a strong blow in its global war against Samsung's Galaxy products when a U.S. Judge refused to block sales of the
Samsung Galaxy Tab 10.1
in the United States. U.S. District Judge
Lucy Koh
in San Jose, California, made the ruling late on Friday.
On the same day, the Australian High Court extended a ban on the sale of the tablet for another week at Apple's request, while it examines whether Apple can appeal against the lifting of the injunction by a lower court. Samsung was disappointed with the ruling in Australia, but will be very pleased with events in the United States before the crucial holiday season.
Apple filed a lawsuit against Samsung in the United States, back in April, alleging that the South Korean consumer electronics giant
"slavishly"
clones its iPhone and iPad devices, in the Galaxy smartphone and tablet products.
There are at least 20 cases involving both companies globally.
"It is not clear that an injunction on Samsung's accused devices would prevent Apple from being irreparably harmed,"
Judge Koh
wrote in Friday's decision
, responding to Apple's claim that the Galaxy Tab seriously hurts sales of its products.
"This ruling confirms our long-held view that Apple's arguments lack merit,"
Samsung spokesman
Jason Kim
said.