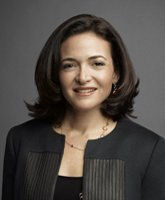 Announcement made in New York City.
Facebook
says it is growing at an alarming rate, and will have to hire thousands of employees to keep up. The announcement was made by Facebook's Chief Operating Officer
Sheryl Sandberg
in New York City, where she was joined by Mayor
Michael Bloomberg
and Senator
Charles Schumer
.
She announced that the firm would hire engineers in New York City, where it has a presence on Madison Avenue with about 100 employees. Most of the social network's 3,000 employees are located at its headquarters in Palo Alto, California.
"We are trying to grow at a clip that will allow us to get the very best people and integrate them,"
Sandberg said.
"We will be adding thousands of employees in the next year."
Facebook is expected to start selling shares to the public in 2012 in one of the most anticipated IPOs in recent years. It reportedly
posted about $500 million in net income for the first half of the year
, with revenue doubling to $1.6 billion compared to last year.