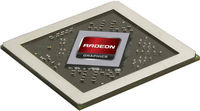 The upcoming
AMD
Radeon
HD
7000 series video cards have been priced, says
FZ
, and they won't come cheap.
The HD 7970 high-end card is expected to have XDR2 DRAM, PCI-E Gen 3, built with 28nm tech and include the new GCN architecture.

At $549, the 7900 will be the most expensive card in the lot.

The "mid-range" HD 7950 will sell for $449.

Full details will be revealed this week, says AMD.