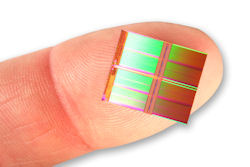 The industry's first monolithic 128Gb part can store 1 terabit of data in a single fingertip-size package with just eight die.
Intel Corporation
and
Micron Technology, Inc.
have announced the world's first 20 nanometer (nm), 128 gigabit (Gb) multilevel-cell (MLC) device. The 20nm monolithic 128Gb device is the first in the industry to enable a terabit (Tb) of data storage in a fingertip-size package by using just eight die.
It also provides twice the storage capacity and performance of the companies' existing 20nm 64Gb NAND device, which Intel and Micron also announced mass production of. The 128Gb device meets the high-speed ONFI 3.0 specification to achieve speeds of 333 megatransfers per second (MT/s).
"As portable devices get smaller and sleeker, and server demands increase, our customers look to Micron for innovative new storage technologies and system solutions that meet these challenges,"
said
Glen Hawk
, vice president of Micron's NAND Solutions Group.
"Our collaboration with Intel continues to deliver leading NAND technologies and expertise that are critical to building those systems."