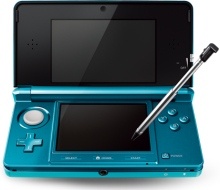 Nintendo 3DS regains some momentum in Japan.
Nintendo
has said that sales of its
3DS
handheld console will hit 3 million units in the Japanese market this week. The firm had released new software titles, including the Mario series, to prop up sales of the ailing gadget.
Nintendo admitted, however, that the holiday rush is started later than expected in the United States and Europe, citing poor economic conditions. Nevertheless, Nintendo is focused on keeping up sales of the 3DS after a strong Black Friday performance in the United States.
It projects a total of 4 million sales of the 3DS in Japan for its first year, and
16 million globally by March 2012
. After cutting the price of the 3DS handheld in August, Nintendo is taking a loss on every unit that it currently sells, which is not an alien concept to other manufacturers of consoles but a rarity for Nintendo.
Nintendo's
Wii
home console sold 500,000 units on Black Friday in the United States. Still, it was overshadowed by a huge 960,000
Xbox 360
consoles sold in the week of Black Friday, setting the Microsoft console's best week of sales during its life.