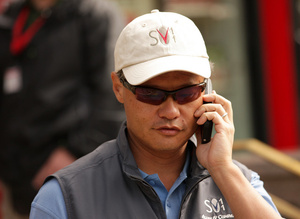 Yahoo's co-founder Jerry Yang has resigned from his position on the company's board of directors, sending the company's shares up significantly.
Additionally, Yang will step down from any remaining positions at the company.
In his resignation letter, Yang
writes
:
"My time at Yahoo!, from its founding to the present, has encompassed some of the most exciting and rewarding experiences of my life. However, the time has come for me to pursue other interests outside of Yahoo! As I leave the company I co-founded nearly 17 years ago, I am enthusiastic about the appointment of Scott Thompson as Chief Executive Officer and his ability, along with the entire Yahoo! leadership team, to guide Yahoo! into an exciting and successful future."
The company just hired top Paypal exec Thompson to fill the CEO position after the firing of the erratic Carol Bartz. Over the tenure of Yang and Bartz from 2007 until late 2011, Yahoo's market value has fallen from $40 billion to just $19 billion.
Yang has an estimated net worth of $1.2 billion.