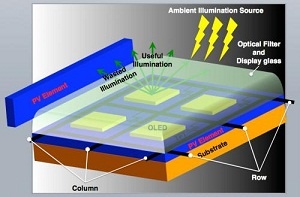 With all the emphasis on processing and network speed, perhaps the biggest challenge in
smartphone
design today is energy efficiency.
Multitasking
operating systems running on
Multi-core
processors, combined with
4G
data connections, can severely limit the usefulness of a phone if you don't have access to a computer, wall outlet, or car battery to charge it in the middle of the day.
Some mobile operating systems, use scaled back multitasking and lower power processors to address the issue. The
iPhone 4S
is notable for
underclocking its processor
to increase batter life at the expense of performance.
Android
phones, on the other hand, tend to sacrifice battery life in favor of performance.
Now researchers at the
Cambridge Centre for Advanced Photonics and Electronics
are experimenting with
harnessing wasted light
from
OLED
panels as a secondary power source. They have accomplished this through the use of
solar cells
built into the display panel, which are used to charge a capacitor.
OLED seems to be the undisputed future of flat panel displays thanks to its capability to reproduce a larger gamut of colors and consume less power. It has been the display type of choice for numerous high end smartphones, but so far it hasn't really lived up to its potential.
Thanks to being relatively immature technology, current OLED implementations are actually outperformed, power-wise, by the
LCD
displays favored by
Apple
for the iPhone. This Cambridge research looks like it has the potential to at least equalize the two technologies in that respect, perhaps representing a major milestone in smartphone development.